"If it's new, Plymouth's got it!"
Speaking of Benz - Art Schlacter sends this neat video, along with some fun facts.
Art Schlachter wrote:Thought you would enjoy the video. It is of a 125 year old Benz Victoria in Germany worth millions in Euro's. The owner decided to take it to a vehicle inspection place to determined it is is still road worthy - a requirement of all cars in Germany to be able to drive on their roads today. The car is road-worthy but only if driven on a clear day in the daytime with a few "if's". Watch the short video.

Regards,

Art Schlachter



-----------------------------------------
From: "Van Massirer"
Sent: Wednesday July 22 2020 7:13:17PM
Subject: Fw: Benz Victoria + Alles in Deutsch

Benz Victoria

The first internal combustion-engined car which performed with any degree of success is generally attributed to German engineer Carl Benz and was a spindly three-wheeler with massive horizontally-mounted engine. Following Carl Benz's first faltering run in that car in the Autumn of 1885 the German Press wrote, 'this engine – velociped will make a strong appeal to a large circle, as it should prove itself quite practical and useful to doctors, travellers and lovers of sport.' This first effort developed not less than 0.9hp giving a top speed approaching 8 mph. By 1892 Benz cars had four wheels and the Velociped introduced in 1894 had a single-cylinder engine developing 1.5hp. As well as the Velociped, which was the best-selling of all Benz products, they offered the Victoria, the Vis-à-vis, the Phaeton and, rarest of all, the Sommerwagen. The Velociped was the best-selling car of its day and engine refinements resulted in 3 1/2hp being developed by 1895 or so. Engine sizes were progressively increased and by 1896 a 5hp car was marketed with bore and stroke of 150 x170mm and a cubic capacity of 3 litres. Benz had many imitators and their products were built under licence by other European manufacturers such as Hurtu, Star and Marshall. In France Émile Roger was their highly successful agent, taking a high proportion of Benz output. Production at Mannheim had risen from 69 cars during the period 1885 to 1893, 67 cars in 1894, 135 cars in 1895 and by 1896 output had climbed to 181 cars. The basic Benz design was to influence motor car production from 1885 to 1900 and only the arrival of the new 'Système Panhard' and also De Dion Bouton's fast-revving vertical engines was to sound its deathknell.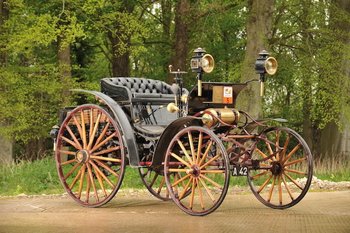 "If it's new, Plymouth's got it!"