I received this note and pictures from Bernie Brouillet last week, and I'm only now getting around to posting them. Sorry Bernie!
Bernie Brouillet wrote:Seen at MoPar Day at Lebanon Valley Dragway in upstate New York, was this 1959 Plymouth Suburban 4-door station wagon, it's for sale for $13,000 (maybe the price for the mag wheels factors in here) and while I didn't speak to the owner, a friend of mine knows him so we could make contact.

Car has a V-8, plenty of surface rust but no obvious rust through - interior was fairly good but probably it's newer seat covers.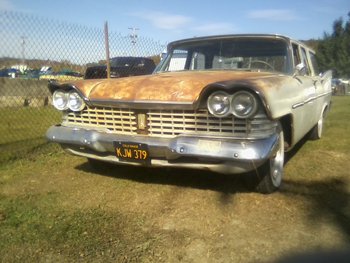 Bernie Brouillet wrote:Think it's been about 41 years since I've seen another 59 Plymouth in person at the drags (mine.)

A fun tidbit of the day is that the winning car in the "Electronics" eliminator (he uses a transbrake and delay box, if those terms mean anything to you) was a 1971 Roadrunner that I raced against once at Epping NH back in 1976. He beat me in the final of a race there when my Sport Fury stumbled at the top of first gear (point bounce?) His son now drives the car, but the day, Gilbert Gay - 80+ years old now - comes to the track with son Greg now and then so we reminisce. He says he doesn't really remember my car from back then but that's fine considering the circumstances.

Was a beautiful day weather-wise, and on the way home automotive oddities completed the day. First we spotted something funny up ahead, my friend Bob thought he saw a 1960's Barracuda about 400 feet in front of us, but I was sure it wasn't one of them (at that distance I can hardly see anything these days) and once we caught him it turned out to be a Rambler Marlin. Not common for sure. A few miles later, coming towards us was something old, really old holding back a line of traffic - as it "whooshed"" by I recognized the unmistakable styling of a Stanley Steamer, seemingly unrestored a having a rather rusty colored patina.