I've lived on one small New England town all my life, and so has my 1959 Sport Fury convertible. I bought it in March, 1967 as my first car, from the original selling dealership, E. T. Fredette Inc. as the third owner. It was originally white, but the first owner, Miles Struthers, had it repainted in Vintage Burgundy in late 1965, then traded it in on a new 1966 Dodge Coronet 500 in March 1966, and this car went into the hands of a friend of a friend of mine, who gave it a "reputation" in 1966. It was being stomped on fairly regularly, and I recall driving behind it and admiring the sound as it was so "powerful" sounding to me. But at that time, I didn't realize it was the same car that I had seen a few times while in the Struthers family ownership. And I never intended to keep it all these years, but a series of coincidences that began I went to buy another car in September 1968 when the salesman told me "You'd do better selling it privately" than trading it in (I bought a 1966 Chevelle SS396 at that time) sounded good enough to me, so I drove it back home and the salesman delivered the Chevelle a few days later. But I had no luck selling this Sport Fury convertible, so the first bit of luck was that my grandmother had a garage stall available, so I parked the car there for that winter, and decided to figure out what to do with it in the spring.
The reason I bought this car was the engine, the Golden Commando, and all the "Fury" it had raised around town in 1966 and early '67. And I was told it made a few trips along the New Jersey Turnpike in late '66, and early '67 in the left lane, at full throttle, speedometer buried, etc. Ray, the second owner's boyfriend, was station in the Navy in the Maryland area as I recall him telling me. Stories like that are good selling points, from my view as a 19 year-old kid wanting a performance-oriented finned Plymouth! Of course, that year of hard driving did some wear and tear on the car as I later found out, but when you find what you want, and can buy it for only $200 "as-is" with just $5 down payment.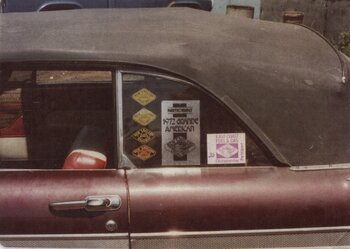 I was fortunate to join a local car club, Carbs Hot Rod Club in late 1968, and the next year, after deciding to keep this car, brought it to the clubhouse and began an amateur restoration. Some members knew the car because the son of the first owner, Stu Struthers, had been a member in the early days. I met him just once in '73 or '74 when he came back to this area from Florida to visit, and through him his father gave me the original glovebox nameplate that he removed when trading the car, along with a few other trim pieces he had. Unfortunately i never spoke with the original owner, but some years later contacted his widow and she told me that "he just loved that car!"
After I got out of the Army in 1971 I returned to the project of fixing up my '59 with help from fellow club members for heavy lifting and teaching me how to weld panels and exhaust headers, but most of the work other than painting, and upholstering the driver's seat was all my own, and I know what mistakes were made and what needs to be corrected when the day finally comes to bring it back to life. A whole bunch of "life happens" events have taken up the years since then and that is why the car still sits in the garage where I drove it in 43 years ago. Ouch!
i tinkered with a variety of things, deciding to hop up the engine a bit with a Roadrunner cam, Tri-Y style headers from Chrysler engineering specs that showed up in car magazines, and 4.10 gears in the rear which really made the most difference. With those changes it ran a best of 14.5 seconds at almost 97 mph in 1976 at Epping, but coming home one day after a rainstorm (I flat-towed it on a bar at that time, driveshaft disconnected) we had a small jack knife accident making a right hand turn, messed up the right front fender of the Fury and got mighty discouraged to say the least. Over time I've gathered a few parts intending to someday return it to the street in nearly stock trim. Wish me luck, please.
So despite originally wanting a red and white '57 Plymouth as a first car, this '59 would be it. Like so many others in the mid 1960's I got interested in drag racing, as we had an NHRA-sanctioned track at the local airport in Orange, Mass. I saw the Dodge Chargers exhibition cars on my first trip there in person in 1964, and being a Chrysler-product family, that was a good introduction. Many friends had been going for a few years by then, and the racing was always a topic in high school. I got to helping a friend race his '58 Pontiac before I put mine on the track in late '67 in "Pure Stock" form, where it ran a best of 15.9 seconds at 86 mph in the quarter mile. The next year I raced it a few more times, and traveled to the newly opened New England Dragway in Epping NH, almost 95 miles distant which seemed like a long way to go back then. Putting my Fury down the track for the first time there in August 1968 I won the trophy shown in the colored picture, first time and beat another Plymouth to do it. All other runs made at Orange found me losing the final round to a Chevy, sometimes close, sometimes not, but at least I could get by some other cars and make the final rounds every time. Eventually I ran made over 200 passes down New England Dragway in several different cars, but none stand out like a '59 Plymouth! The last time I ran anything there was 1978, and made just 6 more passes at Lebanon Valley Dragway in New York in 2001, 23 years since the last pass at Epping, and I think it is safe to say my racing days are over, but it is a fun sport and I still follow it closely. Lebanon Valley has a good MoPar show every fall too -- Epping used to also but it faded out for a while, too many other shows to deal with.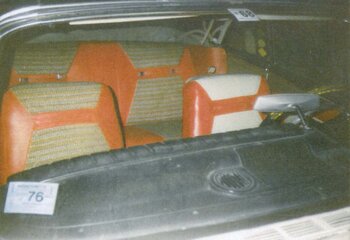 Here's a few related tidbits - the black and white view of the car in my yard was taken in September '67 before it ever hit the track. In 1999 I went to a MoPar show at the drag strip at Englishtown, New Jersey, and one of the well-known former Chrysler factory racers was there, Al Eckstrand, "The Lawman" if anyone remembers some old racing history.
[You can read all about Eckstrand here - Dan]
I showed him a copy of that picture and it seemed to really get his attention and then he told me that Chrysler built a '59 Sport Fury for him to race that summer with a 413 engine from a 300-E in it, something quite special at the time. He already worked for Chrysler's legal department at that time, and became involved with drag racing too. More famous for his later cars with the Ramchargers and on his own, his 1959 exploits were unknown to me -and most others I think- at that time. But a few months after that 1999 show a few articles appeared in print about Al's racing days and early cars, to the point that a black '59 Sport Fury was shown in right-rear quarter view with a 300-E emblem in place of the normal "Tiffany-touch" medallion these cars had. If my picture jogged a memory I'm glad of that because he seemed genuinely surprised when I showed it to him.
Having my car for so many years now, I've taken note of some others worth mentioning, And none of this would be of much interest if Dan Morton had not created this website and I for one am very grateful it exists. Dan knows I slip some tidbits of all kinds into his email now and then, and there are surely more to come.
Colors caught my attention once I realized mine was a repaint in Vintage Burgundy, not the original white (which it was painted again in 1974, but not the exact original shade of Iceberg White) - in addition to that dark green car I mentioned, how about visualizing a Sport Fury hardtop all pink, or red oxide primer, or "tangerine orange" - or a convertible in bright blue, like a late '60s GM color, or a dark brown convert that I found in a junkyard when looking for a glovebox badge in 1967, and noticing it had a clutch pedal, only to run into a guy at a car show in that are in the late 1990's who described his '59 Sport Fury to me after I brought up mine - had to be the same car.
it is quite a group of people who find these cars interesting and worth hanging on to, and even more who still wish they kept the one they once had.
Thanks for reading,
Bernie B.
P.S. - I also have a Sport Fury parts car!
The car has an exceptionally low VIN of M294 100043 (a "Richard Petty" number!) from the LA plant. The car isn't worth much but if worse comes to worse, I'd rather sell it in a hurry, and cheap to one of our group if any interested, than see someone else get it who would just crush it. It has full Solex glass among other features. On the other hand, trees have to be cut down to get it out, none growing up in the engine compartment, but there is encroachment. My convert is safely in my own garage about 100 feet behind me, my friend Bob's is 5 miles away, where the parts car currently resides - there's more than 50 cars, trucks, trailers, dozers on his property. Still, car no. 43 has a nice ring to it, I only wanted a front fender which wasn't much good, but I got talked into taking the whole car long ago. It was a 318 car, and I have the manifold, carb, air cleaner and radiator over here at my place for safekeeping. Extra toilet seat and supposedly all trim is there too, but removed.