Attendees at the 2019 Chrysler Nationals at Carlisle were treated to an exceptional example of a 1959 Fury - that belonging to Mark Merritt. Here are some pictures of the finished product: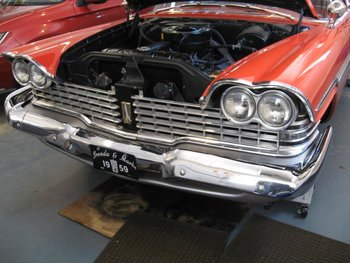 Mark Merritt wrote:The Fury was purchased new at Desert Motors, 1205 S 5th Street, Las Vegas NV by Dudley and Violet Pollard of 1017 Bonita Avenue in Las Vegas on August 22 1959. The car was an LA build, in June I think, and it was all white with factory air. It was in the family and still in Vegas until 1998 when Violet passed. It then went to Idaho for 10 years, and then ended up in Detroit Michigan when I bought it in September of 2012. I brought her to Erie Pa. I redid the engine .030 over, and rebuilt the tranny and front suspension. I ran it for 4,000 miles and took it apart again in 2015 for the paint and interior.
( you can find the full story of this remarkable rebuild in "Mark's Winter of '59". Here's a sampling of pix you will find there ...)
Mark Merritt wrote:We had the paint done a factory color (Flame), I just liked it better. The engine is the 318 and is original as is the tranny. My wife wanted one like her Dad's - we looked for about 2 years until the 59 showed up in Detroit.
Mark has had a long career at GE's Locomotive Division in Erie, PA, along with several of his relations - a bona fide Factory Family. His story was featured in a Plymouth Owner's Club Bulletin article - You can find it here,
"Made In America"
.