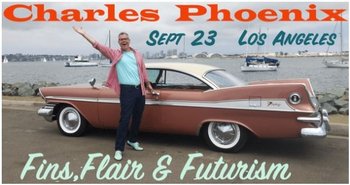 Charles Phoenix needs little introduction - but, we will do it anyway! To quote from
Charles' website
:
Mid-century pop culture expert, Charles Phoenix is a performer, author, explorer and collector celebrating classic and kitschy American life and style. He is known for his spirited live "slide show" performances, classic car JOYRIDE videos, colorful coffee table books, and fun "field trip" tours. On TV, he has appeared on Jay Leno's Garage, Martha Stewart, Conan, and Queen Latifah Show; also judging on Cake Wars Christmas, and Nailed It, and vintage appraiser Storage Wars. The New York Times says: "Call him the King of Retro."
Here are some pix and flix of Charles' very own Sport Fury, along with his colorful commentary!
This is not Charles' first '59 Plymouth Rodeo!