Thank you John! Yes, quite a struggle, but it's all over now.

Happy New Year!!

Dan
"If it's new,
Plymouth's got it!"
---
Today was my Fifth Wedding Anniversary to Mary Kay, and we exchanged gifts. What woman does this?!?
I am the luckiest man on the Planet Earth.
"If it's new,
Plymouth's got it!"
---
...and sitting at my desk, and glancing up at one of the two pictures Mary Kay gave me after I returned from Cuba, years ago: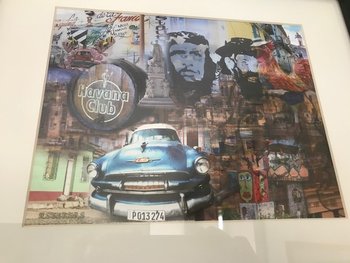 You see, it really is destiny.
"If it's new,
Plymouth's got it!"
---
I had a bit of a scare with Martha, as John Fowlie, Ray Ward and a couple of other folks know. I compared the VIN on the A pillar to the VIN on the title, and they didn't match! Same number of digits - the first two, middle two and last two match, but another digit was transposed, and one differed. Oh no! I went back to the seller, but he's gone incommunicado... John mentioned that Ray knew of a way to get a "lost" title through the state of Vermont, and Ray provided a couple of YouTube links. I was prepared to go that route, and then I had an e-conversation with Christopher Housecat Neapolitan, who once owned a '53 Plymouth.
He told me that Chrysler titled cars from the factory with the block number!!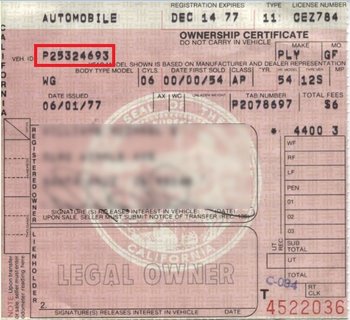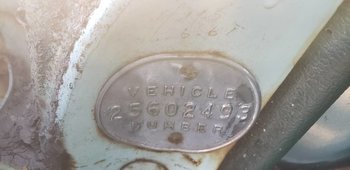 So Martha's street legal. Now, to figure out which number PA wants to use. As Chris pointed out, people swap blocks all the time - I'm lucky that Martha has the original block.
And speaking of which, she's firing up now. Drexel Auto told me there's sludge in the tank, so I have to drop it and get it reconditioned. They blew out the line and cleaned the filter, and the pump is fine - but the carburetor accelerator pump is shot, so I've ordered them a rebuild kit. But she's running! She rolls now, too - the emergency brake was locked. They've got a new band, and a cable is on its way to replace the kinked one. And don't you know, after a nearly three week vacation to California and back, the rest of my brake parts are scheduled to come home today. The drums on the car seem to be OK. With any luck, Martha will be parked in my driveway by the end of next week!
Oh - and that star symbol between the P25 (the model number for '54 Plymouths) and the remaining digits? According to Jim Benjaminson from the Plymouth Owner's club, that means it's a 230 and not a 218. Raw Plymouth power, doncha know!
P.S. - there's an overstamp on the block in a smaller font, "FA28566". Jim didn't know what it was, he speculated that it might be a state number of some sort. Anyone have any ideas?
"If it's new,
Plymouth's got it!"
---
Street Legal! Title comes in the mail in 7 days. (*Whew!*) And the brake parts came home from their California vacation!
We're on a roll here.
"If it's new,
Plymouth's got it!"
---
...er, not quite right.
This
is the symbol that means it's a 230:

So, Martha's not the powerhouse I thought she was. I guess the top speed is 70, instead of 75

"If it's new,
Plymouth's got it!"
---
It's here! And so ends the title saga. I'm feeling a little like I dodged a bullet.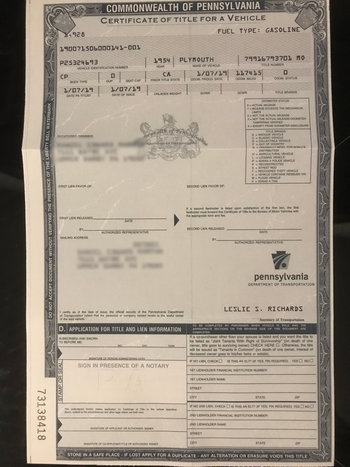 "If it's new,
Plymouth's got it!"
---
Whew!!!
Life is Beautiful! Sex, Beer & Mopars.
---
Posts: 230
Joined: Tue Apr 12, 2016 5:41 pm
That is a relief! Nothing is more stressful than having a car and having difficulty with the DMV about transferring a title. Glad it worked out. Interesting that they used the engine SN for the title from the factory. I can see where that would cause serious issues after an engine swap or two. Happy motoring

---
Who is online
Users browsing this forum: No registered users and 2 guests