John Quinn's engine is about to get an upgrade! This article from Rick "Ricky MoPar" Clapham. -Dan
These are a pair of rare RB engine cylinder heads from a Chrysler 300-E (casting number 1851509).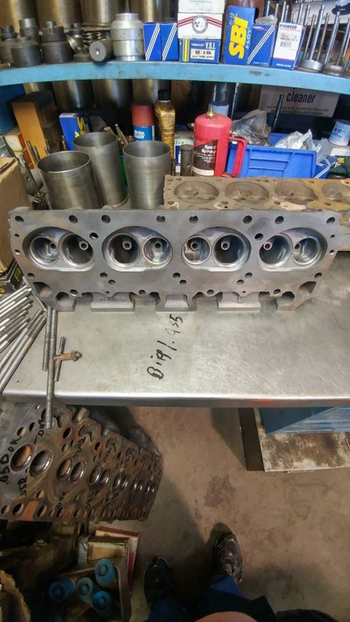 These cylinder heads were in storage for the past several years. I had taken them on partial trade for a pair of 300-K ram heads. Now I had a request from John to have them inspected, and if good and not cracked or worn beyond reasonable repair, have them rebuilt. I disassembled both heads and they required cleaning just from the debris accumulated during storage. They remained in the hot tank over the weekend and upon removal and final rinse and drying, I began the inspection of the castings and all other parts. I found the castings to be some of the best I have ever seen. The Chrome stems were excellent with almost no measurable wear. I threw away the springs (the heads were stored on racking and the mice found a way to pull insulation out of the walls and build a nest on top of the valve springs on one cylinder head -their urine corroded/ruined a couple of springs). Retainers and locks looked nice and all guides checked to be well within wear specs. Reinstalled valves and heights were checked and recorded.
I notified John of my findings and the decision was made to install cobalt chromium exhaust seats, that are hard tough and wear resistant to no-lead fuels. This work of repairing and Improving cylinder heads can be more complicated if heads are worn/damaged.
Reference and parts guides on these cylinder heads are nearly impossible to find these days. The suggested valve seat/specification were incorrect. The correct super high temp. non-magnetic and sized exhaust valve seats were selected and ordered. Slick valve guide liners were installed to avoid any long-term storage valve sticking problems. The old exhaust valve seats were cut away and checked to insure correct depth was achieved saving extra work later. Castings are cleaned and slightly warmed, and the new valve seats are chilled to -109F with cardice and pressed into their position machined for them. Doing this insures the seats will never come out under extreme operating conditions. Valve pockets are cleaned of residual material and the bowls are hand blended to the newly installed exhaust seat rings. Heads are milled removing about .010 material and head gaskets are now thicker. Three angle valve seat grinding performed and installed stem length adjusted if needed. New mild performance valve springs checked for on seat pressure and open to .620 lift. New valve stem seals are installed to the valve guides, heads assembled, and vacuum testing at ports verify good sealing/seating of valves.
These are the heads that were the cause of Plymouth not running at Daytona - valves too large. 1.74 exhaust valve over the standard B engine 1.60 hardened exhaust seat.
The heads will soon be installed on John's 413 engine... now a 426. still legal.
I did not know what "cardice" was until I googled it - it's an abbreviation for "carbon dioxide ice", or dry ice. No moisture to cause corrosion. You learn something new every day! -Dan