"If I ever get it out of storage long enough to get some decent pictures, it would be fine with me... You see, this has only been out of it's stable once (last summer) since 1986. I brought him out gave him a good bath and back in he went."
"If you
go to my website
and check out the parted cars pictures, you will see the remains of the 59 Belvy that started a hot love affair with the 59's. My mother bought that one new in 59 so I guess you could say as long as I have been alive there has been a 59 in the family."
Brad relates that the Sport Fury was purchased in 1984 from original owner, and currently has 54,000 miles. It has a 318 poly 4bbl engine, with factory dual exhausts, swivel bucket seats, tinted glass, Mirror-O-Matic, dual fender mounted mirrors, 3 speed Torqueflite transmission, power brakes, power steering, factory simulated deck lid spare, 2 tone copper vinyl &gold weave cloth interior, padded dash and clock.
I lifted this from Brad's website: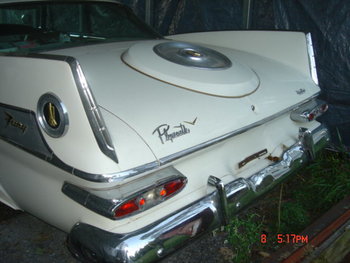 I found this one sitting in a cull de sac off a side street one evening while going to a friends house in 1984. It simply had a piece of lined notebook paper in windshield with "For Sale" scrawled on it with single line ball point pen. I had seen this car only a few times in my life before that day even though it was a local car and had been in this area since the day the woman bought it new in 1959.
As it turned out the woman had bought the car new when she was 49 years old, she had died a few months before I found it and the family wanted to sell it to settle her estate.. I had seen it advertised in the local paper about a month before and they were trying to get $10,000 out of it..
Well as it would turn out another Fury collector in this area had promised to buy it 6 weeks before, after a lot of talking I finally got it thru to them that after 6 weeks he wasn't going to come back, we shook hands and sealed the deal. I walked away with this car for what the collector offered them for it, a very meager sum. It turns out , I had an ad in the local paper for some cars I was parting out a few years latter and one of the calls for parts was the Fury collector..
To this day every 2 or three years the Fury collector calls me and wants to know if I will sell it yet? The answer is always the same even as the price has increased many many times over the years... "NO".
These pictures were taken in the summer of 2006 - this was only the third time since 1986 this has left it's parking space in the heated garage, It came out to get a bath and another coat of wax... Even when out of the garage it gets special treatment and sets in the carport!
Some will say it is a shame to not drive it, I feel they are only original once! The only things that have ever been replaced are the tires, mufflers and water pump...